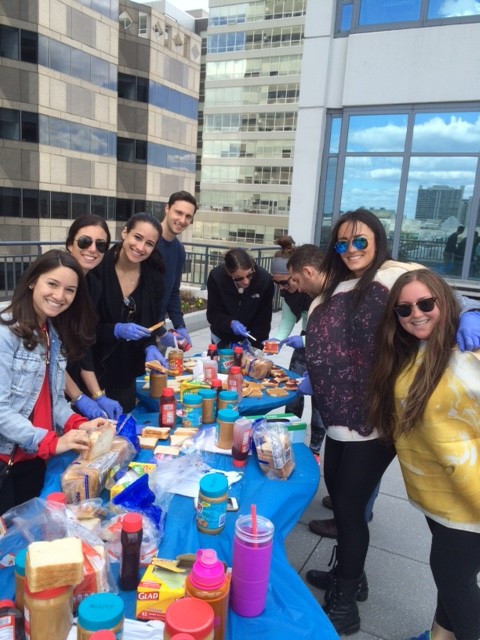 Service Week at Penn.
The week before Passover, JHP@Penn interns got together to do mitzvahs as part of the JHP Service Week. The week kicked off with the semi-annual Penn PB&J-A-Thon. Interns and friends spent a beautiful day on College Green making thousands of sandwiches to be donated to a local homeless shelter. This tradition has become a favorite among interns!
Interns also visited a local nursing home for a Passover dinner with residents and had a Passover Bake Sale (with Kosher-for-Passover goodies!) on Locust Walk to benefit charity. Not only was the bake sale a huge hit with students on campus, the students donated over $150.00 to the Jewish Relief Agency.
PB&J-a-thon at Temple University.
Last Thursday, over 50 Temple University students made 478 sandwiches and donated them to St. Elizabeth's, a men's shelter near Temple University. The event took place in the Student Resources Center and attracted many non-JHP students passing by the sandwich-making table.
Young Professionals PB&J-a-thon.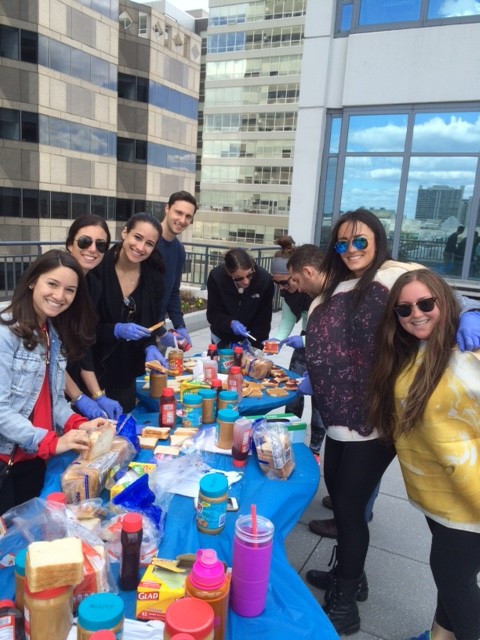 This past Sunday afternoon, over 20 young professionals came out a rooftop in Center City to participate in the YPN PB&J-a-thon! Together they assembled over 450 peanut butter and jelly sandwiches while meeting new people.
YPN donated the peanut butter and jelly sandwiches to St. Johns Hospice, a homeless shelter in central Philadelphia. The staff at St. Johns were very appreciative and gave the young professionals a tour of the facility.
"The PB&J-a-thon was such a fun afternoon. Knowing that we were helping the residents of St. Johns and many other homeless people in Philadelphia made it even better."
     -Ashley Friedman, YPN PB&J-a-thon Participant