November 26 E-News: YPN NYC Happy Hour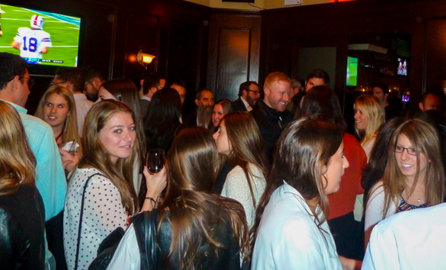 B'H

Jewish Heritage Programs

 E-News

A newsletter to keep you informed about

JHP on Campus ° JBN ° YPN °JHP- NY °JHP Mentoring

November 26, 2014
JHP YPN NYC Happy Hour
JHP Alumni Justin Schanzer and

Reuben

 Cohen with Rabbi Schmidt
JHP recently held a happy hour for YPN in New York City. The event was a great success with over 80 young professionals in attendance at the Public House bar in Midtown.   JHP alumni from Binghampton, Delaware and Penn came out to support the event  and connect with our young professionals in New York.  We are looking forward to more exciting events in the upcoming months.  If your are interested in more information about YPN, please contact Michelle@jhp.org.
Temple Mentoring Week
On Wednesday, November 12 Temple University JHP students met with JHP Alumna Lindsay Teich. Lindsay is the Assistant Director, Career Competencies Department at the Center for Student Professional Development at the Fox School of Business. Lindsay prepped the students for their mentoring week in which each student is paired with a mentor in their field of interests for one-on-one meetings.  
The students greatly enjoyed Lindsay's workshop on proper networking techniques and how to make the most out of this unique opportunity.   Afterwards, Lindsay said:
"The power of mentoring opportunities through JHP is extraordinary.  I was happy to communicate this message and elaborate on the importance of creating, connecting and maintaining professional relationships in preparation for Mentoring Week for the students of Temple University." 
Jordan Cohen, a JHP Lead Intern at Temple University said:
"As a senior who is beginning to look for job opportunities, the seminar with Lindsay was really informative. It taught me a lot about how to conduct myself during interviews and other essential skills that will be necessary for me to find a job." 
Shelby Zitelman of Soom Foods meets with JHP@Penn Interns
Shelby Zitelman, Co-founder & COO of Soom Foods, met with JHP@Penn student interns this past Sunday.   
The Penn students loved sampling Soom Foods tahini and learning about the challenges of running a new business. Rebbetzin Flora Levin made delicious Chocolate Shortbread Tahini bars and Roasted Red Pepper hummus from Soom Foods tahini to share at the meeting.
"I had a great time meeting the JHP students on Sunday
.  As a Penn alumna, it was rewarding to share my work experiences since graduation.  Hopefully I was able to communicate some of the lessons I have learned along the way, and inspire a few of the students to embrace 'the journey' post-college." Shelby Zitelman, Co-founder and COO of Soom Foods
TORAH THOUGHT OF THE DAY
Giving thanks is central in our relationship with G-d.  Almost all of our responses to  G-d through following the path of Jewish teaching can be seen as expressions of appreciation and thanks, for the infinite bounty that G-d bestows day by day — despite all the apparent problems and the dark patches.
From the teachings of the Rebbes
Visit jhp.org and follow us on 

and 

.
Stay Connected!

Jhp.org 215. 222. 9618

Scott Peterman, Managing Director, Scott@jhp.org

Jennifer Birch, Director of Projects and Development, Jennifer@jhp.org

Michelle Goodman, YPN Manager, Michelle@jhp.org

Andrea Highbloom, Penn Campus Program Manager, andrea@jhp.org

Gabriel Aaronson, Program Assistant, Gabriel@jhp.org

Kelly Harris, Temple Campus Coordinator, kelly@jhp.org

Rabbi Ephraim Levin, Assistant Director of JHP

Rabbi Menachem Schmidt. Executive Director of JHP.