January 29 E-News: Strategic Planning and JBN Wrap-up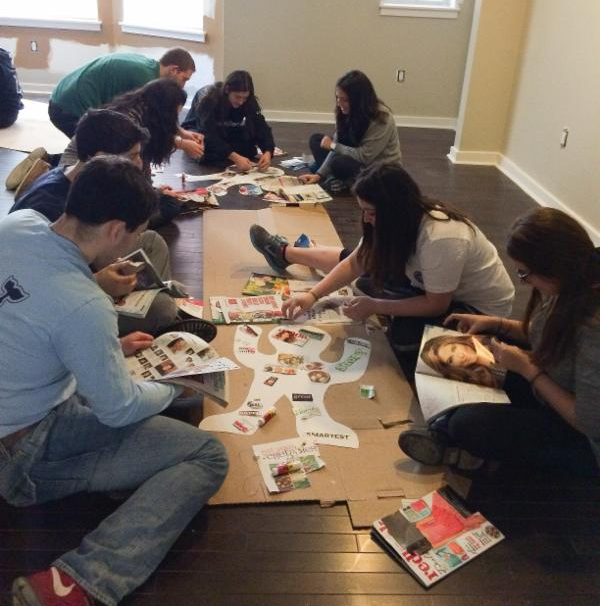 B'H

Jewish Heritage Programs

A newsletter to keep you informed about

JHP on Campus ° JBN ° YPN °JHP- NY °JHP Mentoring

January 29, 2015
Strategic Planning with JHP@Penn Students
Students discussing their vision for JHP @ Penn.
Spring Semester for JHP@Penn launched this Sunday with a strategic planning workshop led by Lauren Collier, the Global Segment Leader at Kimberly-Clark Professional. Lauren currently serves on JHP's Philadelphia Advisory board and brought her unique skills to work with the JHP interns to create a vision for the semester ahead.
The students discussed the importance of JHP in their college experience so far. They reflected on the "greater network" JHP has helped them create on campus, encompassing both other students and Jewish mentors, and the "value of having a family on campus."
It was a great start to the semester, especially as it was the first large meeting hosted in the brand new Penn Lubavitch House building near campus. The students are excited to host more events in the house, from holiday dinners, to challah braiding, to study breaks.
Students working on a JHP branding exercise with Lauren Collier.
JBN Luncheon with Richard Green, CEO of Firstrust Bank

Click the Image above for a video of Mr. Green's presentation at JBN.
On January 21st, JHP's Jewish Business Network hosted Richard Green – CEO and Vice Chairman of Firstrust Bank – at a Power Luncheon in Center City Philadelphia.
Mr. Green addressed a full room of over 100 people, including several Firstrust executives, and discussed Firstrust Bank's growth from a mortgage deal at his grandfather's dining room table to 19 branch locations in the Philadelphia area.
Reflecting on Firstrust's growth over the years, Mr. Green concluded that to position yourself for success, you must "be prepared, plan, be prepared to get rich slow, and have passion for what you do."
Penn Student Profile: Jeff Horowitz

Jeffrey Horowitz has been involved in JHP since his Freshman year and is currently a lead intern on the JHP@Penn student board. Currently a Junior, Jeff just returned from a semester abroad in London and hopes to work in Investment Banking or Private Equity after graduation.
"I got involved in JHP at the beginning of second semester Freshman year because friends of mine encouraged me to do it. I really like that JHP is a great community socially, has great mentoring opportunities, and allows individuals to host events. Being part of a great social community greatly improves the other aspects of the program such as the mentoring retreats, Shabbat dinners and weekly meetings. I believe it really is both the group of people and the framework that allows JHP to be such a great program."
In his JHP@Penn leadership role, Jeff plans and promotes mentoring events for JHP interns.
"As a mentoring lead I have really enjoyed both the retreats and smaller speaker events. Being able to attend a small dinner with a high level entrepreneur and venture capitalist or attending luncheons and office visits in NYC with a myriad of different mentors from different industries has been great."
TORAH THOUGHT OF THE DAY:
This Friday is the 10th of Shevat on the Jewish calendar, the yarzheit of Rabbi Yosef Yitzchak Schneerson, the Sixth Lubavitcher Rebbe.

Walking Upright.

When my grandfather (R. Shmuel) was seven, his father (the Tzemach Tzedek) once told him: The kindness and special quality in G-d's making man upright, to walk erectly, is that though he walks on the earth he sees the Heavens; not so with beasts that go on all fours; they see only the earth.

-Compiled and arranged by the Lubavitcher Rebbe, Rabbi Menachem Mendel Schneerson, of righteous memory, in 5703 (1943) from the talks and letters of the sixth Chabad Rebbe, Rabbi Yosef Yitzchak Schneersohn, of righteous memory.
Visit jhp.org and follow us on 
  and  

.
Stay Connected!

Rabbi Ephraim Levin, Assistant Director of JHP

Rabbi Menachem Schmidt. Executive Director of JHP.