Spring 2014 Penn Mentoring Retreat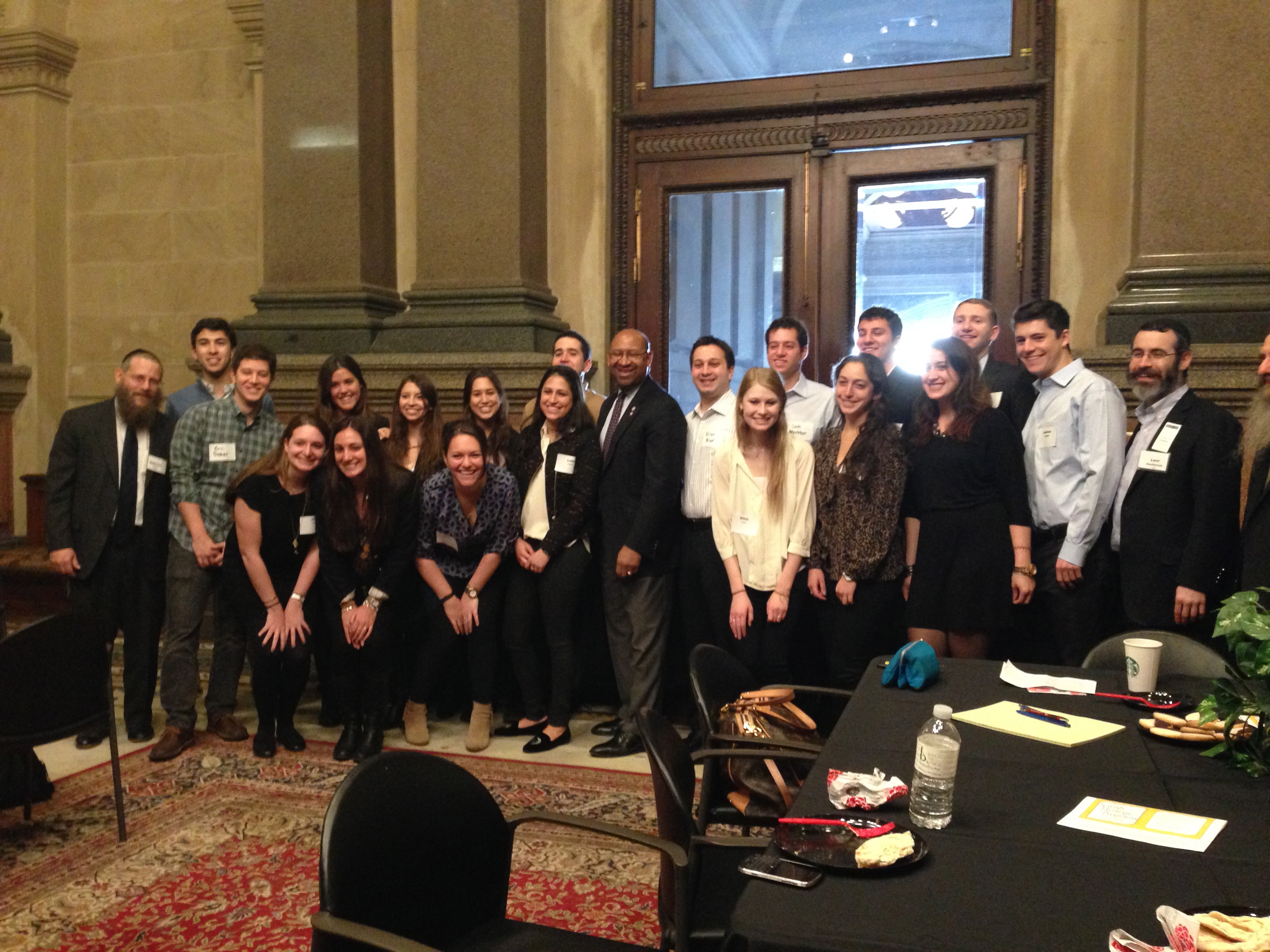 For the first time in recent history, JHP hosted a Penn mentoring retreat in Philadelphia on March 28, 2014.
The day started with a mentoring luncheon in Conversation Hall, the mayor's private section of City Hall, where we were fortunate to have a cameo visit from Mayor Nutter himself. In the afternoon, students has the option to visit Comcast Spectacor's Wells Fargo Center, SeedPhilly, or Pennsylvania Hospital.  The night was rounded out with Shabbat dinner at JHP's OCJAC gallery.
"Thank you so much for the amazing Shabbat dinner on Friday! It was great :)" –Nicole Snyder, JHP@Penn intern, sophomore
"The retreat was great. JHP killed it, as always." –Brian Engel, JHP@Penn intern, senior
"That Brad Denenberg… He's a very cool guy." –Dov Stern, JHP@Penn intern, sophomore who participated in the Seed Philly Office visit with Seed Philly Founder and CEO, Brad Denenberg
Mentoring Recap by Dan Haroun, JHP@Penn intern, sophomore
JHP's mentoring retreat last Friday was an incredible experience for the JHP@Penn undergraduates. The luncheon at City Hall started off the day, and allowed for networking in an informal setting with professionals in various fields. Nearly every profession that would interest an undergraduate was covered, and the wealth of knowledge these mentors brought made it a truly unique experience. JHP@Penn interns were then split up to visit offices of various industries before coming together again at night to celebrate Shabbat downtown. The entire trip provided an unbelievable networking and professional experience that was both enjoyable and educational for all.
Pennsylvania Hospital Office Visit by Katie Schepps, JHP@Penn intern, junior
The office visit to Pennsylvania Hospital was very interesting and enjoyable for the three of us. Allie, Devon and I had our very own tour with Dr. Haber. We began our visit with a mini history lesson since the hospital is actually the oldest in all of America – founded by Benjamin Franklin himself. One wing of the hospital is a museum, so we got to see an old surgical room and an old library with authentic preserved books. After that we toured the Cath Lab and learned all about the procedure. Dr. Haber walked us through the  hospital, including the ICU, and answered all our questions about his work, his favorite things, and his least favorite things.   It was interesting to see the "ins and outs" of a hospital, especially one this historic! We kept talking about how much respect we have for people like Dr. Haber, who come into the hospital every morning to save lives. We were so appreciative that he took time out of his day to give us a taste of what it is like to work in a hospital.