Spotlight Noah Goodman YPN Fellow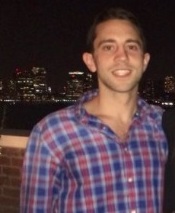 Noah Goodman had a choice.
Nursing a badly bruised knee and a banged up hip, Noah Goodman could have justifiably sat out for the rest of his men's league basketball playoff game in the summer of 2013.
But that's not the kind of guy Noah Goodman is. And, though it was his teammate and JHP colleague—Ben Present—sent the game into overtime, it was Noah's perseverance and tenacity that willed his team to victory, his teammates will tell you. It was that spirit and hustle that won them the championship title of their men's league division.
That same competitive edge also helped direct the attention of numerous Division III scouts Noah's way when he was a baseball star and team captain at Germantown Friends School in Philadelphia. But, due to a knee injury and tall academic aspirations, Noah decided to stay in his hometown and enroll at the University of Pennsylvania, where he majored in Urban Studies.
He hasn't left his beloved Philadelphia since.
Noah is now a J.D. candidate at Temple University's Beasley School of Law, where he is a full time student and staff member of the Temple Law Review. He spent his most recent summer interning for a federal judge, and he has already committed one of Philadelphia's most prestigious law firms for a summer associateship next summer.
But Noah's drive is not limited to the playing field and the classroom, it turns out. Noah has been involved in the Young Professionals Network of JHP for well over a year and, most recently, he was tapped to head up the Networking and Mentoring Committee of the YPN. He is already working with industry leaders in Philadelphia to set up networking events.
"That's the beauty of JHP," Noah said. "It can be whatever you want it to be. A lot of our network is involved largely for the social events. But a lot of our network is focused on professional development, as well. They want opportunities to interact with people in their profession and YPN gives them that. Rabbi (Menachem) Schmidt has done a great job of making sure that YPN accommodates everybody's interests."
When Noah isn't studying for law school or working with JHP, he enjoys meals out with his girlfriend, going to the gym with his dad, and watching Philadelphia sports.