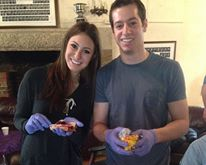 "We are able to make over 700 sandwiches in two hours while having a lot of fun. I think it went really well. it brought together a variety of different people on campus to perform a good cause right before thanksgiving.  Overall it was a great event, and truly showed what JHP is all about"
–Emily Kurtz, Penn class of 2016. 
  She's our Community Service Fellow and she planned this entire event, including getting all the PB and J donated by the Fresh Grocer
Last Friday JHP students at Penn made 1,000 peanut-butter and jelly sandwiches to donate to a homeless shelter. This was our first ever Fall PB&J event and was a huge success.
The event took place at the ZBT fraternity House on Penn's campus.
 All sandwiches were donated to St. Francis Inn – http://www.stfrancisinn.org/