January 22 E-news: Tour of New Building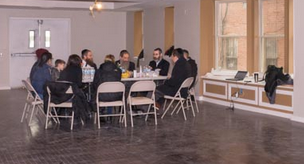 B'H

Jewish Heritage Programs

 E-News

A newsletter to keep you informed about

JHP on Campus ° JBN ° YPN °JHP- NY °JHP Mentoring

January 22, 2015
Students Tour the New Lubavitch House at Penn Building
Rabbis Menachem Schmidt, Ephraim Levin, and Levi Haskelevich host students at the new building.
Construction is almost complete on the Lubavitch House at Penn's new building at 4032 Spruce street! To showcase the building and celebrate the Rabbi Shneur Zalman of Liadi's yarzheit, several students were invited to visit the new building this past Thursday. Rabbis Schmidt, Levin, and Haskelevish hosted several students for a tour and learning session.
They gathered in the Social Hall – where Shabbat dinners will take place when the building opens in February – and learned a passage from Rabbi Shneur Zalman of Liadi's main work: the Tanya. Afterwards Rabbi Levin led the students through the new building, showing them the library, offices, student housing, kitchen, and more.

JHP@Penn Student Spotlight: Katie Schepps

JHP@Penn interns Katie Schepps (left) and Julie Sandelovsky (right)
As a lead intern for JHP@Penn, Katie Schepps successfully planned and executed this Fall's bi-annual PB&J-A-Thon. Currently a Senior, Katie is majoring in Psychology and minoring in Nutrition and Hispanic Studies. After graduation, Katie plans to get her graduate degree in Clinical Nutrition. 
"I love JHP because it lets me share my Judaism with my friends and peers in fun, convenient, and timely ways. It's also a great network to be a part of, and I know I'll stay in touch with the people I've met through JHP beyond my years at Penn. 
Katie joined JHP her sophomore year at Penn after going on a summer Birthright trip led by Rebbetzin Flora Levin. 
"My favorite experience has been the Shabbat dinners we have had throughout the years at our New York City fall mentoring retreat. After a long, productive day of networking with young Jewish professionals and making office visits, we come together to reflect on our week, and in those few hours nothing else matters besides good company and good food."
Throwback Thursday: 
Shabbat for 2000 at the Old Building
JHP@Penn Students Preparing for Shabbat for 2000 at the old Lubavitch House in Fall 2000.
TORAH THOUGHT OF THE DAY:
"For man is a tree of the field"

      -(Deuteronomy 20:19)

"Man is a tree of the field," and the Jewish calendar reserves one day each year — the New Year for Trees on the 15th of Shevat — for us to contemplate our affinity with our botanical analogue and what it can teach us about our own lives.

The tree's primary components are: the roots, which anchor it to the ground and supply it with water and other nutrients; the trunk, branchesand leaves which comprise its body; and the fruit, which contains the seeds by which the tree reproduces itself.

The spiritual life of man also includes roots, a body, and fruit. The roots represent faith, our source of nurture and perseverance. The trunk, branches and leaves are the body of our spiritual lives — our intellectual, emotional and practical achievements. The fruit is our power of spiritual procreation — the power to influence others, to plant a seed in a fellow human being and see it sprout, grow and bear fruit.

-From the teachings of Rabbi Menachem M. Schneerson
Visit jhp.org and follow us on 

and 

.
Stay Connected!

Jhp.org 215. 222. 9618

Scott Peterman, Managing Director, Scott@jhp.org

Jennifer Birch, Director of Projects and Development, Jennifer@jhp.org

Michelle Goodman, YPN Manager, Michelle@jhp.org

Andrea Highbloom, Penn Campus Program Manager, andrea@jhp.org

Gabriel Aaronson, Program Assistant, Gabriel@jhp.org

Kelly Harris, Temple Campus Coordinator, kelly@jhp.org

Rabbi Ephraim Levin, Assistant Director of JHP

Rabbi Menachem Schmidt. Executive Director of JHP.