December 3 E-news: Shabbat Across Campus in Austin, TX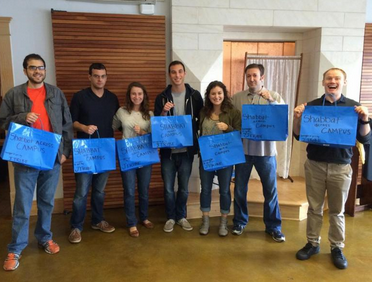 B'H

Jewish Heritage Programs

 E-News

A newsletter to keep you informed about

JHP on Campus ° JBN ° YPN °JHP- NY °JHP Mentoring

December 3, 2014
J-Tribe launches in Austin with "Shabbat Across Campus"
Students at University of Texas Austin pick up DIY Shabbat kits at Chabad
In response to the recent slaying of four Jews in a synagogue in Jerusalem, J-Tribe Austin, a project of Jewish Heritage Programs, launched its first event "Shabbat Across Campus," a DIY interactive Shabbat event that took place in student's dorm rooms and apartments. In partnership with Chabad Student Center at UT, the event's theme of "A little light in the darkness" was designed to enable students reach out to one another and build sense of community outside of the synagogue.
"We're all stunned. We're all in pain. There's an empty seat at the table of the families of the four who were murdered this week in Jerusalem," read J-Tribe's Facebook event page. "Fill these empty seats with your presence. In your dorm room, in your frat or sorority, in your apartment, wherever."
Students came by the Chabad Student Center at UT on Friday, November 21, to receive their "Shabbat Across Campus kits" complete with personal sized bottles of grape juice, tiny challahs, travel-sized candles, two pieces of roasted chicken, fresh-made matzah ball soup, a lollipop, and a quick-and-easy prayer service designed by the Chabad Student Center's Rabbi Zev Johnson.
"Doing 'Shabbat Across Campus'
helped bring us closer to our fellow Jewish students, and to our family and friends across oceans," said Ariel Reichenthal, a student at UT and J-Tribe's new lead intern. "Together, we mourned as a family."
With the initial success of this program, J-Tribe is looking forward to taking root in Austin with even more events like "Shabbat Across Campus", thanks to help from its excellent student board.
Spotlight on Sarah Shur: Lead Intern at Temple University
Sarah Shur is currently a senior Advertising major originally from Downington, PA and she joined Jewish JHP in her freshman year. Meeting Jewish people was exciting, 
because Sarah did not grow up in a very Jewish area. "Jewish community was important and I wanted to
connect with other Jewish students." JHP appealed to her, because it was something that fit easily into her
busy student life. 
Sarah has two jobs as a JHP intern, she is in charge of Jewish content and the JHP@TU Instagram account. Sarah helps students bring Jewish content into their events. "I wanted to enhance the Jewish aspect of JHP and make it relevant for the students." It helps provide an access to Judaism that students may not otherwise have. 
Some of Sarah's favorite JHP events include making cards for CHOP patients, "It was fun and we all bonded together as a group." Also, during her first year of JHP she planned a fondue event that was fun and different. After graduating Sarah would love to live in a city with working in advertising. "I love Philly, I am open to living anywhere, but I will probably stay here."

First Friday at the Old City Jewish Arts Center
Join us Friday evening at the
Old City Jewish Arts Center for First Friday.
119 N. 3rd Street, Philadelphia
Deep Sea Light by Seena Elbaum
December's show entitled "Miracales" features works by 
Barbra Gesshel, Seena Elbaum, Laura Krasnow and Mickie Rosen .  
The show will open with a 
r
eception on  
Friday December 5th, from 5-9pm.    
Kiddush and words of Torah will be delivered throughout the evening and a 
community Shabbat dinner will follow at 9pm.
"Miracles" will be on display at the OCJAC throughout December. Please visit OCJAC.org for the gallery's open hours. A portion of the proceeds will go to support the Old City Jewish Arts Center.  For more information please email, RabbiZash@ocjac.org
TORAH THOUGHT OF THE DAY
All the world's problems stem from light being withheld.
Our job then, is to correct this. Wherever we find light, we must rip away its casings, exposing it to all, letting it shine forth to the darkest ends of the earth. Especially the light you yourself hold.
(From the teachings of the Lubavitcher Rebbe)
Visit jhp.org and follow us on 

and 

.
Stay Connected!

Jhp.org 215. 222. 9618

Scott Peterman, Managing Director, Scott@jhp.org

Jennifer Birch, Director of Projects and Development, Jennifer@jhp.org

Michelle Goodman, YPN Manager, Michelle@jhp.org

Andrea Highbloom, Penn Campus Program Manager, andrea@jhp.org

Gabriel Aaronson, Program Assistant, Gabriel@jhp.org

Kelly Harris, Temple Campus Coordinator, kelly@jhp.org

Rabbi Ephraim Levin, Assistant Director of JHP

Rabbi Menachem Schmidt. Executive Director of JHP.